SUSTAINABLE INVESTMENT
What is a Sustainable Investment approach?
Including environmental, social and corporate governance (ESG) factors and active ownership principles within investment processes in order to create and preserve long-term investment capital. Examples of ESG factors are shown below: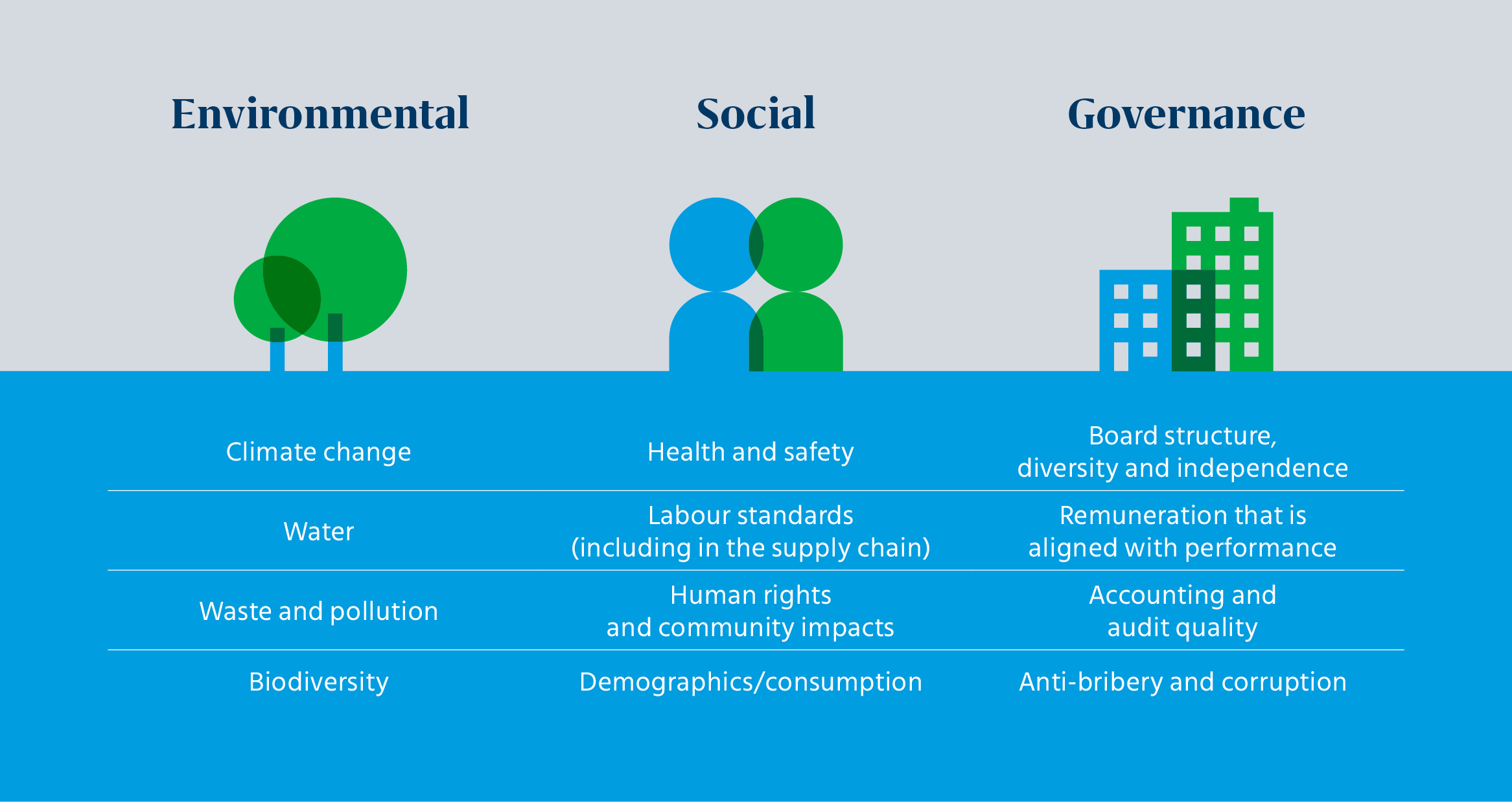 Why does sustainability matter?
We believe a sustainable investment approach is more likely to help grow and preserve your investment in the longer term and, more specifically, that:
ESG factors can have a material impact on long-term risk and return outcomes and these should be integrated into the investment process.
Taking a broader and longer-term perspective on risk, including identifying sustainability themes and trends, is likely to lead to improved risk management and new investment opportunities.
Climate change poses a systemic risk, and investors should consider the potential financial impacts of both the associated transition to a low-carbon economy and the physical impacts of different climate outcomes.
Stewardship (or active ownership) supports the realisation of long-term shareholder value by providing investors with an opportunity to enhance the value of companies and markets.
Consequently, we believe that a sustainable investment approach that considers these risks and opportunities is in your best interests as an investor.

How do we manage your investment sustainably?
We invest your assets for more sustainable investment outcomes by:
Applying ESG factors together with financial metrics to investment decisions.
Investing in solutions to the world's sustainability challenges.
Specifically addressing climate change risks and opportunities.
Engaging with the companies we invest in on your behalf.
Voting in the best interest of our investors.
Excluding companies involved in the manufacture of tobacco or controversial weapons.
Our Sustainable Investment Policy sets out in more detail how we implement our approach within the Mercer Funds.
If you would like to invest according to a wider set of ethical criteria - such as excluding investments in companies involved in alcohol production, carbon intensive fossil fuels, gambling and pornography - we have a range of Socially Responsible Funds that you can choose from. These funds also have a higher proportion of sustainability-themed assets. See the Screening section below for more information.
Sustainability update
We have provided further information below on areas that are of interest to our clients.
Climate Change
Climate change is an issue for investment portfolios, with financial impacts driven by two key sources of change. The first is the physical damages expected from an increase in average global temperatures, and the second is the associated transition to a low-carbon economy. Each of these changes presents both risks and opportunities to investors, as outlined in Mercer's Investing in a Time of Climate Change reports.
Mercer's Investment Approach to Climate Change provides further detail on how we are addressing climate change risks and opportunities in the Mercer Funds.
Active Ownership – Voting and Engagement
Mercer believes that active ownership helps preserve long term value through voting and engagement.
Engagement
We engage with companies to support the realisation of long-term shareholder value for our Funds. Engagement may be undertaken with companies via investment managers, collaborative initiatives and /or directly to enhance the long-term value of the company.
We also participate in a number of initiatives where we collaborate with other investors for greater impact. Below are the current initiatives that we support.
Voting - As a shareholder of publicly listed companies, Mercer has the right to vote at shareholder meetings. Mercer delegates our proxy voting responsibility to the listed equity managers we appoint. The links below include more information on our voting activity:
Annual summary of our 2019 proxy voting activity
Proxy Voting Search site, where you can search for particular proxy votes for the latest financial year (1 July to 30 June) - updated annually, within 3 months of the financial year end.
Screening
We may screen portfolios for sectors and companies deemed harmful and not acceptable to profit from; or deemed as not meeting the expected ESG standards under our ESG integration approach.
Across all Mercer Funds, we exclude investments in entities:
Involved in the manufacture and/or production of tobacco products (regardless of revenue), including subsidiaries and joint ventures, as well as any other company that derives 50% or more of its revenue from other tobacco-related business activities such as packaging, distribution and retail of tobacco products.
That manufacture whole weapons systems, or delivery platforms, or components that were developed or are significantly modified for exclusive use in cluster munitions, anti-personnel landmines, biological or chemical weapons, as well as companies involved in the production and retailing of automatic and semi-automatic civilian firearms.
The Product Disclosure Statements for the following Funds set out the additional ethical exclusions, which are applicable for these Funds only:
Mercer Socially Responsible Australian Shares Fund.
Mercer Socially Responsible Global Shares Fund – Unhedged Units.
Mercer Socially Responsible Global Shares Fund – Hedged Units.
We also monitor for high-severity breaches of the UN Global Compact (UNGC) Principles that relate to human rights, environmental and corruption issues, as identified by our external ESG research provider.
Modern Slavery
Mercer supports the Modern Slavery Act and has established a Modern Slavery Working Group to ensure our investments and business are not contributing to human exploitation. We are working to publish our Modern Slavery Statement before June 2021, and we are pleased to share our new Investment Approach to Modern Slavery.
Showcasing our progress and commitment
Mercer has been pioneering new investment research on ESG, climate change and sustainability globally since 2004. In Australia, we formalised our Sustainable Investment Policy in 2014 and continue to contribute to best practice industry developments and evolving our policy accordingly. See below for examples of our progress and continued commitment.

Annual Sustainable Investment Reports
2020 Annual Sustainable Investment Report
Responsible Investment Association Australasia
Mercer is recognised as a leader in responsible investment by the Responsible Investment Association Australasia (RIAA). The Responsible Investment Benchmark Report Australia 2020 scored investment managers against its Responsible Investment Scorecard, which rewards managers not just for being strong stewards and accounting for ESG factors in investment decisions, but also for transparency (RI policies, holdings, stewardship activities and outcomes), avoiding harm and allocating capital towards solutions.
Principles for Responsible Investment (PRI)
Mercer has been awarded a top accolade for investment strategy and governance by the Principles for Responsible Investment (PRI)